Election Guide '22
The candidates and issues on Montana's 2022 ballot
A digital project by
|
Support this work
Sponsored in part by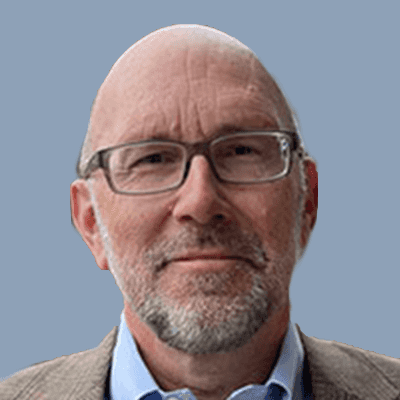 2022 Democratic candidate for Public Service Commission District 5
John Repke
Retired executive
Active candidates in race
Repke, 64, studied finance at Ohio State University and the University of Denver, where he earned an MBA. His professional experience includes nine years with Waste Management and nine years with Havi Group, LLP, a supply chain management company. Most recently, he was the chief financial officer of a sustainable wood products manufacturer in Columbia Falls. He retired from SmartLam, LLC, in 2021.
Repke and his wife, Beth, moved to Whitefish full-time in 2014. He's taught business classes for local organizations including Flathead Valley Community College, Confederated Salish and Kootenai Tribes' Economic Development Office and Lake County Community Development Corporation.
Repke is married with three children and two grandchildren.
This biography is based on an MTFP interview with the candidate and material on Repke's campaign website.
MTFP coverage
Reporting on this candidate published by the Montana Free Press newsroom.
Campaign finance
On the issues
The material shown below was solicted from candidates via a written questionnaire in September and October 2022. Responses were limited to 1,000 characters and edited lightly for punctuation and spelling. Responses have not been exhaustively fact-checked. Send questions to Eric Dietrich at edietrich@montanafreepress.org.
Q1: What are you uniquely positioned to accomplish as a commissioner?
John Repke:
I have the unique qualifications to earn the trust and respect of Montana ratepayers. I will bring relevant experience, skills, work ethic, character and integrity to the position of PSC commissioner.
According to its website, the PSC "strives to ensure that ratepayers have continued access to utility services that are affordable, reliable, and sustainable for the long-term."
In other words, its goal is to develop a consistent, thorough, and objective process that balances the interests of all sides. To achieve a regulatory process that works for all Montanans, commissioners must have 1) experience and expertise to properly evaluate information presented, 2) integrity to be objective, serious and open-minded, 3) dedication to honest, full-time work, 4) skills and character to promote a productive, healthy workplace, and 5) a commitment to the principles of good government.
I am the only candidate with the unique qualifications to accomplish the core responsibilities of the PSC.
Q2: What do you think is Montana's biggest energy-related issue and why?
John Repke:
In Montana, our biggest, energy-related issue is the partisan politics that interfere with sound, rational decision-making about our energy future.
The PSC was created to be the thoughtful problem-solver between captive customers and monopolistic providers. The commission should have no agendas other than to accomplish the goals of affordable, reliable, sustainable energy for Montanans.
As long as the PSC continues to be used as a place to pad pensions or to serve as a political soapbox, decisions will continue to be reversed by the courts, providers won't be able to rely on rational, consistent processes, and customers will be exposed to huge increases in basic household and business expenses.
I am running because if we don't remove partisan politics and personal agendas from the PSC, Montanans remain at risk.
Q3: How are you qualified to sort through the technical aspects of the commission's work?
John Repke:
The technical aspects of this work are related to balancing the economic interests of consumers with those of regulated providers. Most states appoint commissioners with expertise in economics, finance, or accounting. Without this expertise, a commissioner is simply not qualified to do the job.
I hold two degrees in finance and have 40 yrs of business experience, much of it in industries regulated by the PSC. I spent my career analyzing operating budgets and expenses, evaluating capital investments, calculating cost capital and risk-adjusted returns (including for regulated utility services), managing price volatility, and planning for long-term viability. I have managed businesses under regulatory oversight, including municipal waste hauling and disposal; landfill gas to energy; municipal waste to energy; oil and gas production and refining; and pipeline inspection and maintenance. And in general, I understand the workings of the companies that provide regulated services in Montana.
Q4: At a salary of about $109,000 a year, this is one of the highest-paid positions in state government. If elected, how would you balance the requirements of the job with other personal or professional obligations?
John Repke:
I am retired, so I have no other professional obligations. The job of PSC Commissioner would be my sole professional obligation – and I believe commissioners are ethically obligated to be dedicated to the work full time. Many states prohibit commissioners from having other jobs. In Montana, this is not specified, but the salary and benefits certainly eliminate the need for other work – and I believe it is disrespectful to Montana families and businesses to take this job without a commitment to do it full time.
Personal obligations are clearly important and, like everyone else, I have personal obligations to my family – always have and always will. That said, over my 40-year career, I was able to balance personal with professional in a way that I was able to meet my obligations to both. I am fortunate to have a close, supportive family that takes care of each other as a team – and that won't change.
Q5: What is the most important regulatory matter before the commission right now?
John Repke:
The most important regulatory matter facing Montana is the regulatory environment itself.
Given the complexity, pace, and large-scale uncertainty of energy issues facing Montanans, neither the utility nor the ratepayer is served by a commission characterized by personal squabbling, inadequate individual competence in the skills required for effective regulation, poor administrative judgment, a weak work ethic, and a desire to limit public participation. As long as we have commissioners with an 'agenda,' Montanans will be ill-served.
With a changed membership and a working approach that is serious, objective, and competent, both the current "regulatory matters" (i.e., Colstrip, NorthWestern Energy rate case, renewable/base load relationship, net metering, peak use reduction, etc.) and future "regulatory matters" (i.e., climate change, accelerated electrification, transmission issues, distributed generation, population growth, etc.) can be deliberated with better outcomes.
Election results
June 7 Democratic primary vote
Count reported by Montana secretary of state as of 7/19/22
Nov. 8 General election vote
Count reported by Montana secretary of state as of 11/14/22